Table of Contents
What is physiotherapy?
Physical methods are used in physiotherapy to enhance mobility, alleviate pain and stiffness, speed up the healing process and improve quality of life. If you are experiencing discomfort or difficulty moving, a physiotherapist can help. Physiotherapy may assist you in being more mobile and comfortable.
What is a physiotherapist?
Suppose you've experienced an illness or injury that interfered with your ability to move or do everyday duties. In such instances, your physician may have sent you to a physiotherapist to assist you in regaining your ability to move. A physiotherapist (also called a "physical therapist"), helps patients manage their pain, balance, mobility and motor function.
Most individuals will see a physiotherapist at some point in their lives. You may have been sent to one after a vehicle accident, surgery or for low back discomfort. They deal with patients who have a wide range of conditions or limitations.
What does a physiotherapist do?
Physiotherapists diagnose and treat a wide variety of disorders involving the bones, muscles, cardiovascular system, nerves, and other bodily components and systems. They assist individuals in managing chronic conditions, provide lifestyle counseling, prescribe activities and devices to assist people in coping better and also provide recommendations.
When you see a physiotherapist, they may:
massage different parts of your body

manipulate your joints

flex your muscles

provide you with activities to complete
A physiotherapist will evaluate your health and assist with your physical issues. These might have developed as a result of an accident or injury, or you may have had them throughout the majority of your life.
Some physiotherapists work with children who have mobility issues; they also demonstrate to parents how to enhance their child's quality of life.
How physiotherapy helps
A physiotherapist can help with a variety of conditions including:
back and knee aches

sports-related injuries

arthritis

sprains and injuries

incontinence

Parkinson's disease and multiple sclerosis

diabetes, osteoarthritis, osteoporosis and obesity

coping after a stroke

recovery from broken bones

post-surgery rehabilitation

children's developmental delays

occupational safety and health
They will also assist you in lowering your risk of future injuries.
Is physiotherapy suitable?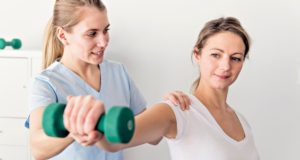 Yes, you can visit a physiotherapist whenever you like. You do not need to consult your doctor before seeing a physiotherapist. However, it is advisable to consult with your doctor to discuss your choices and get a referral. Simply inform your physiotherapist about any significant health issues, previous injuries and how much activity you usually get.
Benefits
There are many reasons to see a physiotherapist. Your doctor may recommend you to a specialist to treat a particular injury or disease. Other times, you can go to physical therapy on your own. The following are some of the most prevalent reasons why individuals seek the services of a physiotherapist:
Sickness:

Following a protracted illness or during/after an illness that affects movement, balance or motor abilities.

Chronic health condition:

Diabetes, for example, might influence movement and balance.

Following surgery:

Getting yourself up and moving is an essential component of the recovery process. If a body part such as your hand, foot or back has been injured, physiotherapy can assist in regaining use or compensating.

Injury:

Physiotherapy is commonly used to treat injuries which cause the patient to be in much discomfort (or unable to move).

Aging:

As individuals become older, their bodies go through changes which affect their mobility and function. Physiotherapy can assist patients in regaining part of that function, and teaching them how to cope with the loss.

Major health event:

A heart attack, stroke, traumatic brain injury and other health crises can make it difficult for a person to operate normally in daily life. Patients may restore part (or all) of their functions with the aid of physiotherapy.

Improved physical performance:

Athletes and patients who seek to improve their fitness performance may choose physiotherapy to acquire ways for optimizing their body's performance potential.

General well-being:

Patients may undertake physiotherapy to prevent the consequences of aging, and gain techniques for keeping mobile, healthy and flexible.
Visit fraserlifephysio.ca or phone (778) 278-4755 today for more information on the best physiotherapy services offered in the Langley area.
< Previous | Home | Next >