What is the definition of a physical therapist?
A physical therapist is a trained and licensed medical professional specializing in diagnosing physical abnormalities, rehabilitating patients' physical function and mobility, maintaining physical function, and promoting physical activity and proper function.
Licensed physical therapists work in various healthcare settings, including outpatient clinics, private practices, hospitals, rehabilitation centers, nursing homes, home health, sports and fitness settings, schools, hospices, occupational settings, and government agencies.
What to expect
A physical therapist assists patients throughout the healing process, from the initial diagnosis to restorative and preventive stages of recovery. Physical therapy may be used alone or in conjunction with other treatments.
While some patients are referred to a physical therapist by their physician, others seek treatment independently.
Whichever route a patient takes to reach a physical therapist, they can anticipate the following:
Undergo a physical examination and evaluation, which may include taking a health history and performing certain testing procedures, such as assessing posture, movement, and flexibility, as well as muscle and joint motion and performance.

Obtain a clinical diagnosis, prognosis, treatment plan, and short- and long-term objectives.

The therapist's evaluation and diagnosis determine treatment and intervention in physical therapy.

Receive recommendations for self-management

Patients frequently work with a physical therapist on exercises they can do at home to improve their function.
Conditions that are frequently Treat
Physical therapists, depending on their specialty, can treat a wide variety of medical conditions.
Several conditions may benefit from this type of treatment, including the following:
Conditions affecting the cardiopulmonary system, such as chronic obstructive pulmonary disease (COPD), cystic fibrosis (CF), and post-myocardial infarction (MI)

Hand therapy is beneficial for a variety of conditions, including carpal tunnel syndrome and trigger finger.

Back pain, rotator cuff tears, and temporomandibular joint disorders are all examples of musculoskeletal dysfunction (TMJ)

Neurological conditions include stroke, spinal cord injuries, Parkinson's disease, multiple sclerosis, vestibular dysfunction, and traumatic brain injuries.

Developmental delays, cerebral palsy, and muscular dystrophy are all common in children.

Injuries sustained while participating in sports, such as concussions and tennis elbow.

Women's health and dysfunctions of the pelvic floor, including urinary incontinence and lymphedema
Physical therapy's advantages
Physical therapy benefits vary according to the reason for treatment. They include the following: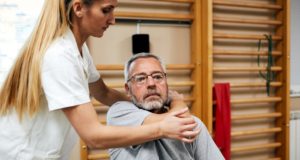 Pain management with a decreased reliance on opioids

Choosing not to undergo surgery

Enhancement of mobility and movement

Recuperation following injury or trauma

Recuperation following a stroke or paralysis

Preventing falls

Balance is improved

Management of medical problems associated with advanced age
A sports therapist can assist an athlete in optimizing their performance by strengthening specific areas of the body and reprogramming muscles.
Individuals can be advised about the benefits of a healthcare provider or physical therapist based on their personal medical history and treatment need.
Finding a physical therapist
Finding an appropriate physical therapist may require consideration of a variety of factors, including insurance acceptance, specialty and reason for treatment, and geographic location.
Insurance companies frequently maintain a list of physical therapy clinics that participate in particular health plans. Other healthcare providers may have a list of recommended therapists in the area.
Training to be a physical therapist
Physical therapists study biology, anatomy, cellular histology, physiology, exercise physiology, biomechanics, kinesiology, neuroscience, pharmacology, pathology, behavioural sciences, cardiovascular and pulmonary, endocrine and metabolic, and musculoskeletal studies over several years of training.
Physical therapists can specialize in a variety of fields, including the following:
The health of the cardiovascular and pulmonary systems

Electrophysiology in clinical practice

Senior citizens' health

Neurology, orthopedics, pediatrics, sports physical therapy, and women's health are among the specialties represented.
< Previous | Home | Next >