Table of Contents
Millions of individuals with shoulder issues seek pain relief using physiotherapy. The shoulder may have had a harrowing experience and needs therapy. This treatment aims to alleviate pain, improve patients' quality of life, and enhance mobility, flexibility and strength.
Shoulder pain can be debilitating, regardless of whether it results from an injury acutely or chronically. With the correct specialist on your side, you can alleviate this discomfort and restore shoulder function. Here are just some of the benefits of physiotherapy for shoulder pain treatment:
Physiotherapy's Role in Treating Shoulder Pain
Shoulder pain is the third-most common musculoskeletal symptom reported to primary care physicians. Experts believe 65-70% of all shoulder pain involves the rotator cuff tendon. Yet evidence indicates that 5-40% of patients without shoulder pain have full-thickness rotator cuff injuries.
Effective treatments for shoulder pain alleviate discomfort and distress. This is when physiotherapy is useful. Physiotherapy, or "physical treatment", has several applications. It may reduce pain, mobilize particular tissues around the damaged joint, and gently stretch the affected region.
Specific exercises designed to alleviate shoulder pain can offer the required relief. In addition, your physiotherapist may recommend complementary treatments such as acupuncture and taping methods. Both can support the sensitive neck and shoulder muscles and alleviate pain.
How Shoulder Pain Physiotherapy Helps
Whether the shoulder pain is caused by stiffness, numbness, irritation or poor posture, professional PTs can provide the most effective therapy if they know its precise origin. At the first appointment, your physiotherapist will comprehensively examine the afflicted area.
They will concentrate on enhancing shoulder mobility, function and pain reduction. Physiotherapy can assist if you have:
Had shoulder soreness whether participating in sports, at work or at home.

Developed pain from excessive sitting.

Had a recent accident that caused shoulder harm.

Had shoulder surgery.

Been searching for shoulder injury prevention tips.

Been recovering from a recent shoulder injury and want to accelerate the rehabilitation process.

Started a new physical activity and it is giving you pain and suffering.
FAQs
Does physiotherapy help shoulder pain?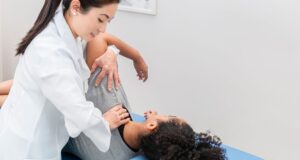 Absolutely. Physiotherapy is a very effective method for treating this type of pain. First, therapists conduct a comprehensive evaluation to determine the source of the issue. This therapy will then be tailored to the patient's requirements. Some individuals need a longer time to recover; however, others with a little shoulder problem may return to normal rapidly.
Why does my shoulder pain become worse at night?
A rotator cuff injury or tear may become more evident at night due to normal wear and strain. Gravity may strain and stretch the rotator cuff when lying down, producing significant pain. However, the nighttime pain may also be due to shoulder tendinopathy or bursitis.
Should I exercise if my shoulder is painful?
With a sore shoulder, it is common to be hesitant to exercise. However, if your therapist recommends particular shoulder exercises, you should engage in them. Simple workouts may begin the healing process and give your muscles the necessary recuperative strength. Then, with the correct regimen, your shoulder will mend appropriately.
What type of physical therapy is used to treat shoulder pain?
Typical options include joint stabilization/mobilization, muscular strengthening and stretching. It is typical for therapists to use cold, heat and sports tape. In addition, a variety of therapeutic alternatives are available. All of these can realize significant advantages. 
How should I sleep if my shoulder hurts?
Avoid sleeping on your sore shoulder. Use a pillow that prevents you from turning over in your sleep; the pillow can serve as a barrier while you sleep peacefully.
For more information on improved shoulder pain management through physiotherapy, visit fraserlifephysio.ca or call us in Langley at (778) 278-4755 today.
< Previous | Home | Next >