Table of Contents
Do you suffer from any form of chronic pain? It's all too usual to suffer from aches and pains –  particularly as you get older, if you have had a sports injury, or have a chronic condition. Have you ever considered visiting a physiotherapist? Keep reading to discover why "physios" are regarded as the mechanics of the human body and precisely how physiotherapy can help you feel your best.
What Is Physiotherapy and How Can It Assist You?
Physiotherapy is a therapeutic strategy focusing on natural and evidence-based physical treatments to alleviate pain and promote, maintain and restore health.
There are 4 primary reasons why physiotherapy is one of the most effective alternative treatments approved by insurance:
Physiotherapy provides for rapid and optimum bodily restoration

Physiotherapy enhances your life quality

Physiotherapy is used to treat several ailments

Physiotherapy enables you to take a more active role in your healthcare
Physiotherapists assist patients with managing physical discomfort caused by accident, illness, diseases and aging, using a number of therapeutic techniques including massage, exercise, cupping and stretching, among others.
Why Do Individuals See a Physiotherapist?
In many instances, injuries treated by a physiotherapist are caused by other underlying problems. Your continuous back discomfort may be caused by slouching at the computer, being overweight, or failing to warm up before gym sessions. Consequently, a physiotherapist treats not just back pain but also the other contributing causes.
Depending on your age, your primary care physician may recommend working with a physiotherapist. These professionals aid in promoting good aging, allowing individuals to continue working while preserving their independence for as long as feasible. Physiotherapists use a holistic and whole-body approach to lessen the likelihood of re-injury.
Physiotherapy Treatment
Depending on the patients they treat and their area of specialization, physiotherapists (PTs) perform a variety of tasks every day. A physiotherapist may need to analyze a patient's physical state to identify issues and administer therapy. In addition, they may re-train patients to walk, or assist them with crutches, walking frames, or wheelchairs.
Common conditions needing physiotherapy treatment include:
Athletic injuries

Post-operative rehabilitation

Occupational injuries

Joint sprains

Muscle strains

Headaches

Lower backache

Neck discomfort

Vertigo

Plantar fasciitis

Jaw (TMJ) discomfort

Tendinosis
Physiotherapy Methods
Physical therapists have access to a number of therapy methods when dealing with patients. Your treatment may comprise any of the following methods, depending on the reason for your physiotherapy:
Stretching

Functional training

Massage

Dry needling

Self-management strategies

Cupping

Taping

Joint mobilization

Goal setting

Workout programming

Lifestyle advice
What Can I Anticipate From a Physiotherapist Visit?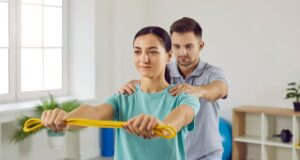 People are very often pleased during their initial appointment with a skilled physiotherapist. Here are some things to remember as you prepare for your first physiotherapy visit:
Appointment duration
Depending on why a person is in treatment, physical therapy sessions often run between 30 and 60 minutes, one to multiple times each week. 
Clothing for physiotherapy
Prepare to exercise, stretch, and maybe break a sweat during your first physiotherapy session. In light of this, it's important to wear loose, comfortable clothes which allow for free mobility. Confirm this before your visit since not every physiotherapy clinic will provide changing rooms.
Subjective evaluation
Most of your initial therapy session will be spent conversing with your therapist about you and your issue. Typical questions are, "How long have you had this condition?", "How severe is the ache from 1 to 10?", "Where did this begin?", "Have you consulted a physician for this?", "What relieves your discomfort and what makes it worse?" and "Does your physical discomfort impact your day-to-day activities?"
Evaluation objectives
During this portion of the session, your PT will physically evaluate the injury. Frequently, you will be asked to execute a series of actions to illustrate the pain or stiffness.
Workouts and therapy
Depending on the duration of your evaluations, your PT may next demonstrate some exercises for you to do at home before your next session.
Repeat PT sessions
During each session, your physiotherapist will reevaluate your condition, and you will decide together whether you need a follow-up visit.
Find out more about effective physiotherapy sessions by visiting Fraser Life online or calling us in Langley at (778) 278-4755 today.
< Previous | Home | Next >