Table of Contents
What Does Massage Therapy Entail?
Massage therapy is used to alleviate tension in specific muscles due to injury or stress. These massage techniques increase blood flow, which accelerates the recovery process. Massages can assist with the following:
Relaxation

Circulation

Muscle tension

Reducing discomfort

Eliminating toxins and metabolic waste products from the body
Massage therapy is just one component of a physiotherapist's treatment plan. Massage therapy is targeted at your injury (or a specific area of discomfort) and will be applied to the muscles and tissues surrounding the area.
Additionally, the physiotherapist will employ supplementary techniques including:
Joint mobilization

Muscle stretching
When To Visit a Massage Therapist
If you have known episodes of pain (such as neck or low back pain) and you're aware that massage has previously helped you manage your symptoms

If your physiotherapist has recommended massage to help in the recovery of your condition

If you have no symptoms of pain but believe you'd benefit from hands-on treatment to help with muscle relaxation and circulation improvement
What Role Does Massage Play in Physiotherapy?
Massage was one of the primary therapies used by physiotherapists in the early 1900s. Initially, massage played a significant role in physiotherapy and influenced its development. This treatment was widely available to patients returning from wars who required rehabilitation and recovery from their injuries.
Massage therapy is now an integral component of physiotherapy. This is because it's a hands-on component. Massage therapy is used to accomplish the following:
Relieve muscle tension

Eliminate trigger point activation

Enhance circulation

Circulate lymphatic fluids throughout the body

Reduce swelling and joint discomfort
Physiotherapists Do More Than Just Massage
All physiotherapists are trained in injury and surgery rehabilitation. This can include guiding you through a land- or water-based exercise program to assist in re-establishing your sport, work or recreational goals. 
A physiotherapist can assess your posture statically and in motion (plus your muscle strength and flexibility), along with joint movement if you have chronic pain and loss of function. They will guide you through an exercise program combined with specific manual therapy techniques to rebalance your musculoskeletal system.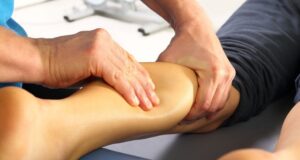 Also, you may be unaware of additional issues which a physiotherapist can help you with. This includes fracture casting, custom hand splinting, joint taping and treatment of voice dysfunction caused by muscle and joint problems, jaw pain, headaches and even dizziness disorders.
Visit fraserlifephysio.ca for more information on the highest quality massage therapy services in Langley and Cloverdale or call us at (778) 278-4755 today.
< Previous | Home | Next >